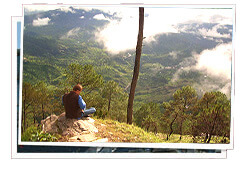 Uttarakhand became the 27th state of the Republic of India on 9th November 2000. The State is carved out of Uttar Pradesh. It occupies 17.3% of India's total land area with 51,125 sq km.

On Uttarakhand Travel, you will find the great diversity of the region where snow-clad mountains, green hills, fertile valleys, flowing rivers and thriving lakes add to the natural beauty. The popular hill stations of Uttarakhand are Nainital, Bhimtal, Almora, Ranikhet, Pithoragarh, Munsiyari, Mussorie, Chopta, Valley of Flowers, Joshimath and Lansdowne. For unlimited serenity and tranquility in pleasant pollution free environs, hill station on Uttarakhand Travel are ideal for vacations. To enhance the attractiveness of the region are the several natural lakes in the region, which are the center of attraction of the town and good for sporting activities.

Since Uttarakhand is known as the Abode of the gods, there are several highly venerated pilgrimage places. The tourists must visit Kedarnath, Badrinath, Henmkund Sahib, Ganotri, Yamunotri, Jageshwar, Bageshwar, Rishikesh and Haridwar for their religious importance on Uttarakhand Travel. Each hilltop or bent is known to have a temple, big or small, which are considered very sacred by the locals.

Uttarakhand is ideal for several adventure sports activities because of its geographical attributes. While on Uttarakhand Travel, the tourist must take the maximum pleasure out of adventure sports like trekking, ice-skiing, white water rafting, sailing, boating, kayaking, canoeing, yachting, water-skiing and parasailing. To climb the big mountain stretch or to pass the dense jungles of the hills is in itself very exciting. The huge water-filled rivers and deep lakes are perfect for water sports.
Tourists also prefer to go on Uttarakhand Travel to visit the abundant wildlife sanctuaries and national parks in the state. While you are on a visit to Uttarakhand, make sure to visit the Valley of Flower National Park, Kedarnath Wildlife Sanctuaries, Nanda Devi National Park, Govind National Park, Assan Barrage National Park, Rajaji National Park and Corbett National Park.

Capital: Dehradun (Interim)

Longitude: 77° 34' 27" E to 81° 02' 22" E

Latitude: 28° 53' 24" N to 31° 27' 50" N

Total Area: 53,484 sq. km.

Total Forest Area: 34,434 sq. km.

Hilly Area:92.57%

Plains: 7.43%

High Court: Nainital.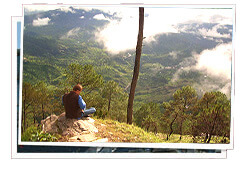 Districts:
Pithoragarh, Almora, Nainital, Haridwar, Bageshwar, Champawat, Uttarkashi, Tehri Garhwal, Udham Singh Nagar, Chamoli, Dehradun, Rudraprayag

Languages Spoken:
Kumaoni, Garhwali, Hindi.

Tourist And Historical Places :
Nainital, Mussoorie, Pauri, Almora, Ranikhet, Khirsu, Champawat, Dayara, Auli, Khatling, Vedini Bugyal, Valley Of Flowers, Lansdown, Lakhamandal, Paataal Bhuvaneshwar, Gangolihaat, Jolljivi, Kataarmal, Kosini, Jageshwar, Dwarahaat, Someshwar, Baijnath, Pindari Glacier etc.

Pilgrimage Sites :
Badrinath, Kedarnath, Gangotri, Yamunotri, Panchkedar, Panchbadri, Panchprayag, Haridwar, Rishikesh, Hemkund Sahib, Purnagiri, Chittai, Kaliyar Sharif, Nanakmatta Sahib, Rettha Sahib etc.


STD Codes of Uttarakhand Cities
Whenever we go to new place we feel the need to have a few things like maps, travel guides and important phone numbers. Every city in the world has its unique STD (Standard Trunk Dialing) and countries have ISD (International Subscriber Dialing) numbers. They are especially helpful when one needs to call somewhere from. Both the STD and ISD numbers are affixed before dialing the actual telephone number. A '0' is added before the STD dialing code and '091' for international calls. These codes will remain same for all over India. Below is the list of STD and ISD codes of Uttaranchal cities which you might fell helpful.
| | | |
| --- | --- | --- |
| City | STD Code | ISD Code |
| Almora | 05962 | 091-5962 |
| Badrinath | 01381 | 091-1381 |
| Barkot | 013752 | 091-13752 |
| Bhatwari | 013744 | 091-13744 |
| Bhimtal | 05942 | 091-5942 |
| Bhowali | 05942 | 091-5942 |
| Chamba | 01376 | 091-1376 |
| Dhanaulti | 098370 | 091-98370 |
| Devprayag | 01378 | 091-1378 |
| Dehradun | 0135 | 091-135 |
| Dharasu | 013713 | 091-13713 |
| Gangotri | 013772 | 091-13772 |
| Gauchar | 01372 | 091-1372 |
| Gaurikund | 01364 | 091-1364 |
| Guptkashi | 01364 | 091-1364 |
| Haldwani | 05946 | 091-5946 |
| Haridwar | 01334 | 091-1334 |
| Joshimath | 01389 | 091-1389 |
| Kanatal | 01376 | 091-1376 |
| Karnprayag | 01372 | 091-1372 |
| Kasauni | 05964 | 091-5964 |
| Maneri | 0137483 | 091-137483 |
| Mussoorie | 013563 | 091-13563 |
| Nainbag | 013767 | 091-13767 |
| Nainital | 05942 | 091-5942 |
| Nandprayag | 01372 | 091-1372 |
| Netala | 01374 | 091-1374 |
| Nowgaon | 013752 | 091-13752 |
| Pauri | 01368 | 091-1368 |
| Pipalkoti | 01372 | 091-1372 |
| Pithoragarh | 05964 | 091-5964 |
| Phata | 01364 | 091-1364 |
| Ramnagar | 05947 | 091-5947 |
| Ranachatti | 01375 | 091-1375 |
| Ranikhet | 05966 | 091-5966 |
| Rishikesh | 0135 | 091-135 |
| Rudraprayag | 01364 | 091-1364 |
| Sayanchatii | 01375 | 091-1375 |
| Srinagar | 01388 | 091-1388 |
| Ukhimath | 01364 | 091-1364 |