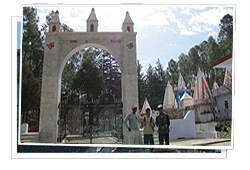 Binsar is a beautiful and quiet little hill station located 26 kms from Almora. It was once the summer capital of Chand Rajas during the 7th and 8th centuries. It is one of the most scenic spots in the Kumaon region and a very well maintained spot. Binsar is a quiet little hill station located in Uttarakhand. You can reach Binsar by air, rail or road. Read on to find out how to reach Binsar. There is nothing much to do in Binsar apart from relaxing and taking long strolls in the hilly road and terrains.
One of the most beautiful places located in the Kumaoun Himalayas, Binsar is the perfect destination where along with lush acres of greenery you can also spot important Himalayan peaks like Nanda Devi, Kedarnath, Chaukhamba, Trishul, Panchchuli and Nanda Kot.

The weather in Binsar is pleasant throughout the year. Summers are warm with temperatures between 10 and 20 degrees Celsius while winters are cold with temperatures between 2 to 10 degrees Celsius. The best time to visit Binsar is between April to June and September to November

Binsar excursions consist of some of the finest places near the beautiful hill resort. Excursions around Binsar, Uttarakhand are a must see for those visiting the city. Some of the famous places to visit around Binsar are:

Sightseeing
---
Almora
Almora is a beautiful hill station that has still maintained its old and tranquil character. It is located about 26 kms. from Binsar. The main places of interest in Almora are Bright-end corner, Chital temple, Kasar Devi, Deer Park, Nanda Devi temple and Ram Krishna Mission Ashram.

Gananath
Gananath temple is located 31 kms. from Binsar, at an altitude of 2,116 metres above sea level. This place is famous for its caves and the temple dedicated to Lord Shiva.

Jalna
Jalna is a beautiful place situated about 59 kms. from Binsar. It provides a picturesque view of the Himalayan ranges. A number of orchards here produce a variety of fruits like apricots, peaches, pears, plums and apples.

Katarmal
Katarmal is located about 42 kms. from Binsar and is a must visit place for people who love history. It has the famous Sun Temple which was built by Katyuri Rajas, 800 and 900 years ago. Katarmal is situated atop a very high and steep hill.

Jageshwar
Jageshwar is a small temple town situated about 60 kms. from Binsar. It is famous for one of the 12 Jyotirlingas that is located here. It is situated on the Almora-Pithoragarh road, in the majestic Jataganga valley. The complex of Jageshwar consists of 124 temples and is famous not only for its beauty but also because of the thick deodar forests that surrounds the place.

Binsar Forest Reserve
One of the famous wildlife sanctuaries of Uttarakhand, Binsar Forest Reserve is home to a number of wild animals and avian species. From Himalayan palm civet, serow, ghoral, yellow-throated Himalayan marten, yellow-bellied weasel, fox and Himalayan Black Bear, one can see a number of wild animals on their trip to this forest reserve. Apart from this, Binsar offers breathtaking views of the Himalayas as well.

Binsar Mahadev Temple
The Binsar Mahadev Temple located here was built by King Kalyan and is considered to be one of the 12 Jyotirlingas located in the country.

The various ways to reach Binsar are described below
---
By Air
The nearest airport is located at Jolly Grant, in Dehradun. From here, one can take a cab or bus for Binsar.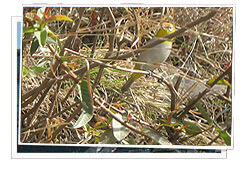 By Rail
The nearest railhead from Binsar is located at Kathgodam which is about 116 kms from Binsar. From Kathgodam, one can take the local cabs or buses to reach Binsar.

By Road
Binsar is well connected by roads to all prominent towns. Almora is located at a distance of 26 kms. Nainital is about 90kms while Haldwani is located about 120 kms from Binsar.

Cover Destination : Rishikesh - Pauri - Thalisain - Piersain - Binsar - Gairsain - Rishikesh

The trek starts from Thalisain via Pauri, an enchanting hill station presenting a panoramic view of the Garhwal Himalaya snowy peaks, and on a clear day the sunset is worth seeing from Kondolia, 5 kms. from Thalisain the trek trails through a very rich forest of deodar, silver, fir, pine and oak and wildlife.