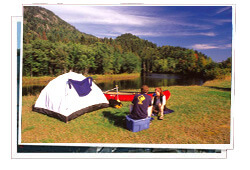 The Himalayan town of Rishikesh in Uttarakhand is a storehouse of adventure. Camping in Rishikesh with Chawla Travels happens to be a truly delightful experience for visitors. Most of these campsites are located on the Rishikesh-Devprayag Road. Chawla Travels operate in the region offering you some budget camping tour to Rishikesh. The whole of Uttarakhand region is blessed with bounties of nature and Rishikesh is no exception. While you camp here, you can soak up impressive views of the mountains, laze around on the sandy beaches and can also indulge in other recreational activities like beach volley ball, nature walks, moderate trekking, rock climbing, rappelling etc.

At the campsites in Rishikesh, travellers can also enjoy bonfires, barbecue dinner, singing, dancing etc. If you are travelling in a group of 8-10 people or more, you can also avail some privileges like having a pre-decided menu. Rush end less all the tents at the campsite are provided with twin beds, mattresses, natural toilets, lanterns etc , medical facility or electricity is available at the camps. However, doctors can be available on call.

Camping is possibly the finest way to enjoy the serenity of nature with the company of your friends and family. It is the best mode to spend time in the lap of nature and forget the mundane affairs of an otherwise hectic life. It also provides an opportunity to spend quality time with the loved ones and understand them better. The Uttarakhand Himalayan region in India is one such place that offers fantastic range of camping. Whether it is wildlife camping or normal camping, Indian topography offers everything for the adventure enthusiasts. It can prove to be very beneficial for the growing and budding mind of the children. Camping is a recreational activity and there is no age limit. Anyone who likes to explore nature can take up this camping expedition.

Beach camp : Our beach camps is located 13 kms from Rishikesh on a Virgin beach of SHIVPURI about 260 kms from Delhi and 13 kms upstream from Rishikesh on the road to Deoprayag. These are set up on stretches of silvery white sandy beaches by the sparkling waters of the Ganges and are surrounded by emerald wooded hillsides. Nights are romantic and tranquil under the starlit skies.

Accomodation : is in Alpine tents with a living area of the size of 10 x 12 feet which have a centre table and two beds with mattresses and sleeping bags. Each unit is weather proof and well ventilated with roll up windows.

Dining : Food is laid out in a separate dining tent overlooking river Ganga. Drinking water at the camp is sourced from a natural water spring about 200 meters from the camp. Alternatively bottled water is procured for drinking and cooking purposes. Adequate supply of bottled drinking water is also maintained at the camp. The camp kitchen takes care of the meals in a buffet arrangement with a large spread.. Chinese and continental food is also served at the camp with prior information and request for groups. Liven up your evenings on the beach under a starlit sky with mouth watering bar-be-cue, tandoori delights, music and bonfire !

Activities : A host of activities await you here - rafting, kayaking, body surfing, forest walks, village visits, trekking, bird watching, star gazing, beach volleyball, cricket, rugby or simply building sandcastles or sunbathing. It is also a great venue for corporate programs like outbound training, team building, stress management. For those interested in adventure we offer rafting and kayaking on the Ganges with experienced river runners. The wilderness around the camp encourages you to go for scenic walks in the invigorating and pure morning air. Also on offer is trekking, rock climbing and rappelling.

Evenings at the Camp:
Loosen up in the evening with the hip swinging 'n' singing session, complete with bonfire at the camp beach. Or participate in one of the campfire games. And if there's a musician in any of you, there's always the option of carrying your instrument and creating your own ambience. Then there is always getting involved in Levitation, Knots, Plank Bridge and Boston Lap games to name a few of the campfire games.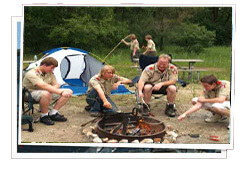 High altitude Camping:
Our high altitude camps are the perfect getaways to beat the heat. Temp varying between 10 to 20 degree in the month of May and June is astonishing for some. But once you step in the camps you will believe it. The permanent nature camps provide the comfortable ,and relaxing stay. The twin sharing bedded spacious accommodation provides comfortable sleep.. You can lay on the hammocks on read some of your favorite books during your stay. The adventure freaks can try jumaring, rock climbing, rappelling, night treks during the stay. The barbeque and sumptuous food served by our experienced cook compliment stay well.