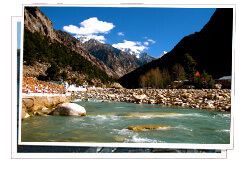 It is the place from where originates the Ganges, one of the most sacred rivers of the Hindus. Tucked away in the Garhwal hills, Gangotri shrine draws in lakhs of tourists from all parts of the world every year. One of the chardham destinations, Gangotri lies at an elevation of 3,048 m above sea level. Apart from devotees, the tourist spot is also visited by a good number of adventurers from around the world.
Gangotri is located at a distance of 300 km from Dehradun in the state of Uttarakhand. The ideal time to pay a visit here is between the months of April and November while the temple remains open for devotees between May and November. Summers are cool and winters are freezing cold. If you are travelling here in winter, do remember to be equipped with necessary clothings. It is advisable not to travel to Gangotri during monsoon months to avoid landslides.
History of Gangotri
The great task of bringing the Ganga on earth started. Anshuman failed and so did his son Dilip, but the grandson Bhagirath was very determined who meditated at Gangotri. After several years of intense meditation, the Ganga descended from Heaven and remained in suspense in the coils of Shiva's hair. Now king Bhagirath meditated to propitiate Shiva. Shiva being pleased released the Ganga as three streams-one of which came of earth in the form of the Bhagirathi, The Ganga's waters touched the ashes of the 60,000 sons and they rose to their eternal rest. The slab of stone on which King Bhagirath in believed to have meditated is called the Bhagirath Shila and is located near the temple of Ganga.
Geographic Details of Gangotri

Altitude: 3042mts
Trek: Nil

Climate
In summers: Cool during day and cold at night.
In winters: Very cold, about to touching sub zero

Clothing required
April to July - Light woolen.
September to November - Heavy woolens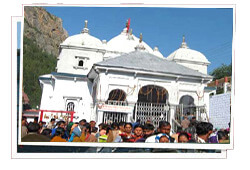 Distance Chart
Rishikesh to Haridwar
Rishikesh to Chamba
Chamba to Tehri
Tehri to Dharasu
Dharasu to Uttarkashi
Uttarkashi to Harsil
Harsil to Gangotri

- 24 kms
- 60 kms
- 21 kms
- 36 kms
- 28 kms
- 69 kms
- 22 kms