Sri Hemkund Sahib is situated 4000 mt above sea level. The holy pilgrimage of Sikhs, Hemkunt Sahib, is covered with snow capped mountains, giving it a mesmerizing look. The Sapt-Sring, seven hills, have surrounded the holy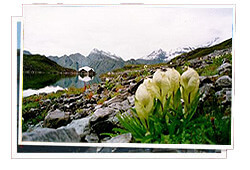 shrine and the lake. The lake's rocky shores are covered with snow through most of the year, but when the snows melt, the almost mythical yellow-green flower known as the Brahma Kamal, the `Lotus of the Gods', blooms amidst the rocks. It's a place of a rather wild and untamed beauty- and one of Sikkhism's most important shrines. The holy site has been considered a pilgrimage long before Guru Gobind Singh ji came here. It was previously called Lokpal, meaning 'Keeper of the World'. The place has been associated with the tenth guru of Sikhs, Guru Gobind Singh. It is said that his earlier incarnations resided in Lokpal, and this was a reason that Guru Gobind Singh came here. Gobind Singh ji came for meditating and later wrote his experience about the place in his biograpy.
History of Hemkunt Sahib
Hemkunt Sahib finds mention in Bachitra Natak, autobiography of Guru Gobind Singh. But the place has been considered to be Lokpal, a place supposed to be existing from the times of Ramayana. It is said that Lokpal was the place where Sri Lakshman sat on meditation. Lokpal has been associated with Lakshman, for being his favorite place. There are many folklores that go with Lakshman and his attachment with this place. The place has also been associated with Lord Vishnu and Lord Shiva, for Gobind Singhji also talked about Ramayana and his own association with the place in his earlier incarnations. He said that it was ordered by lord to him, about finding the place where he meditated as Dusht-Daman sage. Gobind Singh ji also wrote about his last live's experiences here.
Religious Importance
The small town of Hemkunt Sahib has a star shaped Gurudwara, dedicated to Guru Gobind Singhji, the last guru of Sikhs and his saintly teachings. The place was not established as a pilgrimage centre till 20th century, as it was a hidden from people's reach. The autobiography of Gobind Singhji has mentions of Hemkunt Sahib, but the chapter was not believed much, as there was no sign of such place. Pandit Tara Singh Narotam, a nineteenth century Nirmala scholar, was the first Sikh to trace the geographical location of Hemkunt. Later, renowned Sikh scholar, Bhai Vir Singh was instrumental in developing Hemkunt after it had been, discovered in search of the Guru's tap asthan.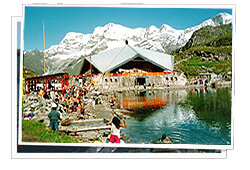 Guru Gobind Singh, while on his penance here wrote about his earlier incarnations. In 'Bachitra Natak' the great Guru relates his story in the following words- "I shall now relate my own story, how God sent me into this world. I was busy performing penance on the hills of 'Hemkunt' where seven peaks are prominent. The place is called 'Sapt Shring' where King Pandu had performed Yoga, there I practiced austerity and worshipped the god of death." There is a small lake near the Gurudwara, called Amrit Sarovar, is considered very holy and its a ritual to bath in the lake. Though the lake remains frozen for almost entire year, it doesn't stops a devout to take a dip in the freezing waters of lake, to pay homage to Gobind Singhji.