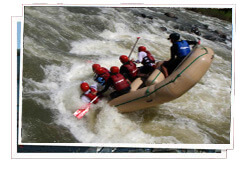 The sport of white water river rafting calls for a triumph over the swift swirling river as it gushes past spectacular mountains. It is practiced mainly in the upper reaches where the water is wild and white as it froths and foams, crashing against narrow gorges, rocky outcrops and falls at deep gradients.

Sandy beaches line the river at intervals, allowing river rafters to pull up alongside. The slopes on either side are covered with oak, pine spruce and fir, with the occasional village and its terraced fields dotting the landscape. Wild-Life can be sighted at a distance, especially spotted deer, monkeys, leopard, while multi-hued butterflies flit among flowering bushes. Spiritual retreats and ashrams overlook the river and add to the spiritual experience. Suitable and best season for rafting is September to June.
Equipments & Safety :
The equipment for white water river rafting is an oar frame raft which usually accommodates a maximum of eight persons. It is navigated by an experienced guide using two large oars. Sometimes all persons on board use paddle for greater power to match the river. However keen coordination is necessary and it is important not to fight the current if adrift.

Minimum age for participation is 14 years, younger children are allowed on certain sections of the rivers with safety being the priority.

All members get full safety gear - U.S. cost guard approved life-jackets, helmets, water proof dry bags & camping gear. Complete safety briefing to all the members at the start of the trip. All trips can be made by beginners unless otherwise indicated.

White water Rafting shivpuri to Rishikesh :
This exclusive and private beach 20 Kms from Rishikesh has 20 river facing beach side Swiss tents, all in the midst of the Himalayan foothills, forests and the holy Ganges. Let Ganga Banks capture the romantic and release the adventurer in you.
Facilities: River facing Swiss tents or tourist guest house with beds, beach volleyball, parachute conference area, bonfire and bar-be-cue, tug of war, Frisbee, kids recreational area.

Activities: River rafting, treks, nature and wildlife exploring, expeditions, quiet solace seeking retreat.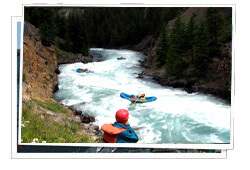 White Water Rafting Bharmpuri to Rishikesh :
Distance covered: 11 kms. Time taken: 2.5 to 3.5 hrs. Depending on the water level.

Drive Brahmpuri, the first rafting camp on Ganga 11 kms. Towards Shivpuri. Arrive Brahmpuri. After ready the raft, we raft down to Rishikesh. We hit some of the easy and exciting rapids on the river i.e. Initiation, Double-Trouble, Hilton and Terminator. In the later part, we float past temples and Ashrams of Laxman Jhula and Ram Jhula, the main tourist area of Rishikesh Certainly the best angle to see the town of the Gods, Ghats and the Ganges.