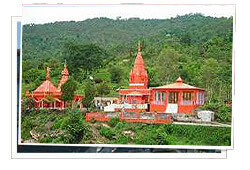 Ranikhet is one of the most beautiful hill station, situated in north Indian state Uttaranchal. It is year-round destination, attracts to tourists from all over the country and outside. An idyllic hill station in Kumaon hills, offers the tourists a panoramic view of the mighty Himalayan peaks. According to popular belief, Rani Padmini queen of Raja Sudhardev loves this place very much and decide to settle down here.

At the height of 1829 meters above from the sea level, this place is undoubtedly paradise for tourists who love to nature. Ranikhet Tourism offers some wonderful treks for trekking to adventureís lover, you can enjoy the trekking tours in Kausani, Dunagiri and Sitalakhet.

There are a number of places to visit near Ranikhet. There are cheap hotels and accommodation available for Ranikhet tourism. The following sites can be visited during stay at Ranikhet.

Prime Attraction of Ranikhet
---
Upat Kalika
It is just 6 Kms away from the town on Almora road. Upat has one of the best 9 - hole golf course, while Kalika is famous for its Kali Temple and forest nursery.

Chaubatia Garden
This place is 10 Kms away from the town, house of the botanical gardens and a Govt. fruit research institute.

Jhula Devi Temple
The temple was constructed some 400 years ago, dedicated to Goddess Durga very popular in local. This is famous for it's innumerable bells, tied by the devotees to get their wishes fulfilled.

Bhalu Dam
It is just 3 Kms away from the town; the main source of the town's water supply comes from the Bhalu Dam. It is famous for itís fishing.

How to Reach
---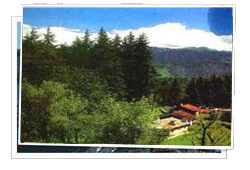 By Air: The nearest domestic airport is Pantnagar, which is around 119 Kms away from Ranikhet.

By Train: The nearest railhead is Kathgodam, which is 80 Kms away from here. Regular buses and taxis are available for Ranikhet.

By Road: It is well connected with all major cities of India, Nainital (54 Km), Almora (49 Km) and Delhi (340 Km).