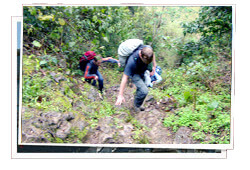 Chawla Travels will take you into a journey in Himalaya, the land of eternal snow peaks. The Himalaya in the Indian subcontinent, with their incredible landscapes, are home to some of the most stunning mountain scenery on earth.
The ultimate favorite destination for trekkers, the Indian Himalaya, has something very special in store for all nature lovers.
It offers a huge variety of treks, which in them selves offer you new sights, smells and of course pure seclusion. Also with no tea-houses on most of our treks we will be fully self-contained which just adds to that feeling of being out there.
An English speaking guide and other friendly staff will look after all your requirements. We will make things just perfect so that you can enjoy the beauty of surroundings without worrying about anything.
Trekking off the beaten path you are not expected to carry anything except your personnel water bottle and camera (unless you want to). The accompanying mules and porters will take care of your bag and baggage.
At North Star Adventure we will help you choose a trek that fit's your time and fitness requirements. We have roughly grouped the treks in to three different categories for you to use as a guide. We strongly advise you to contact us so that we can give you the best and most current advice on which will be the best trek to suite you.
The sport of trekking is not a modern fad but as old any other exploratory instincts know to mankind. The mountain folk have been doing it forever. There are no boundaries to trekking and age is no barrier, you are never too young and as old as you believe yourself to be.
At a reflex level, trekking is a physical challenge: a simple desire to pick a path and measure up to the terrain and the elements. The adventure component adds the spice of uncertainty, raising the stakes for you to test yourself in unfamiliar territory.
On a deeper level, trekking is a bridge between ancient lifestyles: the fixed vision of a settler counterbalanced by the transient motion of a nomad. As an evolution from a simple walk into a more self sufficient venture, trekking requires simplification, a reduction to portable basics, and implicit trust in your ability to define what you need to live.

Season :
Because of the vastness of the terrain and altitude difference, trekking trips can be undertaken the whole year round. Treks range from low altitude treks in winter to the crossing of high passes in summer when the snowline recedes, It is also possible to combine all three-river running, trekking and mountaineering. The conventional trekking periods preferred are mid-April to May-June before monsoon and after the rains in the months of September-October-November.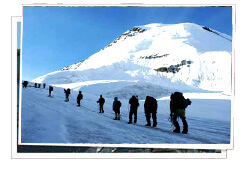 Team Size & Precautions :
Trekking is best enjoyed in small groups not exceeding eight or ten. This also allows the hillside to regenerate. Larger parties create administrative problems and pollute the hillside. It is advisable to be medically examined before starting, hence narrowing down the possibility of altitude sickness. The first-aid kit should include basic medicines and bandages foe cuts and burns, headache, nausea, constipation, diarrhea, sore throat, eye lotion and diuretics. Cold Cream should be applied liberally before the day's walk. Running water from a stream should be used and washing done well downstream of camp-sites. Above all it is essential to acclimatize and keep one's own comfortable pace; allow for time to 'stand & stare' and heighten one's perception by some prior reading on the area.

Essential Equipments :
Personal clothing, including woolen shirts, pullovers, T-shirt, shorts, leather jacket, long-johns, socks, personal toilet items, cameras and film, should be included to suit the duration and altitude bags to collect and carry away garbage.