Wild life and wild life sanctuaries are the other attractions for tourists visiting Uttarakhand.


Come and see a fascinating diversity of wildlife. Unique, mysterious and forever fascinating, Uttarakhand spans a diverse variety of geographical terrain that is a veritable treasure house of animals and birds. Right from the lofty mountains perennially under a thick blanket of snow, to the river valleys, from the undulating highlands to the thickly forested Terai, one finds a rich variety of species of flora and fauna.
Jeep Safari
The jeep safaris can be organized for 1 to 15 days duration, and overnight jungle camps could be arranged, accordingly. Jeep safaris could also be arranged for bird watching and wild life tours.

Elephant Safari
For the more adventurous we arrange elephant safaris through the elephant corridor within Rajaji National Park. You would keep off the main park road and get a choice to view the shy varieties of wild life. Jungle camps are located along the routes of the safaris. The booking of elephant safaris has to be done at least 15 day before the scheduled date.

Rajaji National Park
Rajaji National Park is distinct for its pristine scenic beauty and rich biodiversity. A paradise for nature lovers and wildlife enthusiasts. The wildlife of the park is blessed with elephants, tigers, leopards, deer and ghorals as its best known life forms. Three sanctuaries in the Dehradun Shivaliks- Rajaji, Motichur and Chilla were amalgamated into a large protected area and named Rajaji National Park in the year 1983 after the famous freedom fighter Late Sri C. Rajgopalachari; Popularly known as Rajaji.

Spread over an area of 820.42 sq Kms., Rajaji is a magnificent ecosystem nestled in the Shivalik ranges and the beginning of the vast Indo– Gangetic plains, thus representing vegetation of several distinct zones and forest types like reverine, board–leaf mixed forests, Chirpine forests, scrubland and grassy pasturelands. It posses as many as 23 species of mammals and 315 avifauna specie.
Season-Mid Nov-Mid June.
Activities-Elephant safari and jeep Safari

Corbett National Park
Corbett National Park is India 's first and finest national park spread over 520sq. kms along the banks of Ramganga river, located in the foot hills of the Himalayas. It was named as Corbett National Park in honor and memory of the Late Jim Corbett, the legendary hunter, naturalist-turned author and photographer who had helped in setting up the park and demarcating its boundaries. The elevation of the park ranges between 400 and 1200 mtrs. The park offers different kinds of vegetation all along its varied topography which comprises hilly and riparian areas temporary marshy depressions, plateaus and ravines. The animals listed in the Corbett are - Leopard, leopard cat, jungle cat, fishing cat, Himalayan black bear, deer, crested serpent, eagle, osprey,
Black winged kite, shikra, spotted eagle, babblers etc.

Season-Nov-Feb, March-June, July-Oct.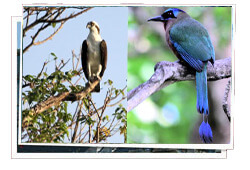 Nanda Sanctuary
Nanda Devi Sanctuary is situated in Chamoli district. The present sanctuary came into existence in 1939. There are no road is available and the area is inaccessible. No regular path exist. One can trek from Joshimath i.e. 15 km. by road up to Lata and then 51 km. trekking up to sanctuary. Fauna includes Snow Leaopards, Himalayan Bear, Must-Deer and Pheasant. The best season to visit is from April to May. At present no accommodation is available in the vicinity of Nanda Devi Sanctuary which covers an area of 324 sq. km.