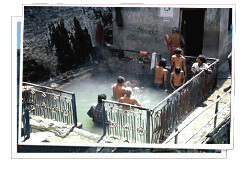 A must on every Hindu pilgrim's itinerary, Yamunotri is an highly significant destination among the four Hindu shrines that constitute the Chardham Yatra in the state of Uttarakhand. It is the source of the holy river Yamuna and can be reached from popular towns like Rishikesh, Haridwar or Dehradun. The temple at Yamunotri is at a distance of 6 km from Hanuman Chatti, a small town in the Garhwal Himalayas. Visitors can cover this stretch either by taking a pony/ horse ride or by hiring palanquins. The Yamunotri shrine is also quite close to the Indo-Chinese border.
Between the months of May and October, Yamunotri invites hordes of tourists as well as pilgrims from across the globe. The sacred place finds its mention and has an important place in the Hindu mythology. Hindus believe that it is the site where resided the ancient sage named Asit Muni. Hot springs closely located from Yamunotri are a must-see for every visitor. The hot water of the springs is also used by devotees to prepare rice and potatoes to be offered at the Yamunotri shrine.
Not only with devotees and pilgrims, Yamunotri also invites an equal number of trekking enthusiasts from all over. A trekking tour to Yamunotri is wonderfully complemented by picturesque scenery including rugged peaks, gurgling streams and dense alpine forests. Trekkers can first undertake a journey to Hanumanchatti and then they can set off on a 13-km-long trek up to the pilgrimage site of Yamunotri. The trekking route from Dodital to Yamunotri is much popular with adventure seekers.
History of Yamunotri
According to the legend ancient sage Asit Muni had his hermitage here. All his life, he bathed daily both in Ganga and Yamuna. Unable to go to Gangotri during his old age, a stream of Ganga appeared opposite Yamunotri for him.
The temple and the place opens every year on the auspicious day of the akshya-tritya, which generally falls during the last week of April, or the first week of May. The temple always closes on the sacred day of Diwali mid- Oct. - 1st week of Nov., with a brief ceremony, the temple staff return to their villages and for the rest of the time the valley is gripped in no man silence and covered with white sheet of snow. With melting of snow next summer, temple re-opens to blissful happiness of thousands of visitors again.
"The daughter of the Sun god, Surya and consciousness, Sangya the birth place of the Yamuna is the Champasar Glacier (4421 m) just below the Banderpoonch mountain. The mountain adjacent to the river source is dedicated to her father, and is called Kalinda Parvat. Kalinda being another name of Surya. Yamuna is known for her frivolousness, a trait that she developed because as per a common story - Yamuna's mother could never make eye contact with her dazzling husband.
Geographic Details of Yamunotri

Altitude: 3252 mts
Trek: 5 kms

Climate
In summers: Cool during day and cold at night.
In winters: Very cold, about to touching sub zero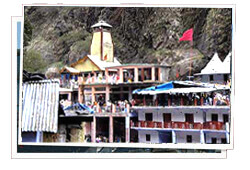 Clothing required
April to July - Light woolen.
September to November - Heavy woolens

Distance Chart
Rishikesh to Haridwar
Rishikesh to Chamba
Chamba to Tehri
Tehri to Dharasu
Dharasu to Barkot
Barkot to Hanuman Chatti
Hanuman Chatti to Janki Chatti
Janki Chatti to Yamunotri

- 24 kms
- 60 kms
- 21 kms
- 36 kms
- 55 kms
- 32 kms
- 8 kms
- 5 kms trek